Arthur E. Crist, PhD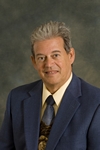 Arthur E. Crist, Jr., Ph.D., obtained an undergraduate degree in Medical Technology in 1974 from Elizabethtown College in Elizabethtown, PA and a Ph.D. in Medical Microbiology and Immunology in 1980 from the University of Maryland School of Medicine in Baltimore, MD. Dr. Crist completed a postdoctoral training program in public health and medical laboratory microbiology at The State University of New York at Buffalo and Erie County Laboratory, Buffalo, New York.
Dr. Crist became Director of Clinical Microbiology and Immunology at Polyclinic Medical Center in Harrisburg, PA in 1981. There he was responsible for evaluating and implementing diagnostic testing in microbiology and immunology. Dr. Crist joined York Laboratory Associates in 2001 and currently serves as the Clinical Director of Microbiology, Immunology and Molecular testing at York Hospital.