Genevieve Kuruvilla, MD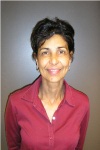 Genevieve Kuruvilla, MD was born in Chicago and grew up in the Dominican Republic. She received a Medical Degree from Universidad Autonoma de Santo Domingo (UASD) School of Medicine in 1983. She completed her residency in Anatomic and Clinical Pathology at College of Physicians and Surgeons of Columbia University at Harlem Hospital Center in 1991, followed by a fellowship in Orthopedic Pathology at Hospital for Joint Diseases in New York City in 1991-1992. She joined JFK Medical Center Pathology Department in 1992 and became Chief/Chairman of this department from 2006-2010, as well as President of Pathmed Associates, LLC. and Clinical Assistant Professor of Pathology at the University of Miami School of Medicine.
Dr. Kuruvilla joined the Gettysburg Hospital Medical Staff in 2012 serving as a pathologist. She is Board Certified in Anatomic and Clinical Pathology with a subspecialty certification in Cytopathology.