Matthew F. Georgy, MD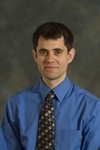 Matthew F. Georgy, M.D., was born in Williamsport, PA. He received his Bachelor of Science degree in 1998 from Lycoming College, followed by a Medical Degree from Case Western Reserve University in 2003. He completed his residency in Anatomic and Clinical Pathology at Johns Hopkins Hospital in 2008, having served as Chief Resident. While at Johns Hopkins Hospital he also completed a fellowship in Hematopathology in 2007.
After finishing his training, Dr. Georgy joined the York Laboratory Associates in 2008, serving as a pathologist. He became the Technical Director of Hematology/Cellular Microscopy July 2012. Dr. Georgy is board certified in Anatomic and Clinical Pathology, with a subspecialty certification in Hematopathology.