Michelle L. Erickson, MD, MBA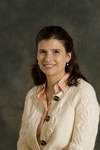 Michelle L. Erickson, M.D., MBA, was born in Syracuse, NY. She received a Bachelor of Science degree in 1998 from Cornell University, followed by a Medical Degree from the School of Medicine and Biomedical Sciences at SUNY Buffalo, concurrent with a master's degree in business administration from the University at Buffalo School of Management in 2003. She completed her residency in Anatomic and Clinical Pathology at Yale-New Haven Hospital in 2007, as well as a fellowship in Blood Banking and Transfusion Medicine in 2008.
After finishing her training, Dr. Erickson joined York Laboratory Associates in 2008, serving as a pathologist and the Medical Director of Transfusion Services. She became the Department Chairman and Medical Director of the York Hospital Laboratory July 2017.  Dr. Erickson is board certified in Anatomic and Clinical Pathology, with a subspecialty certification in Blood Banking / Transfusion Medicine.