Stephen M. Manzella, PhD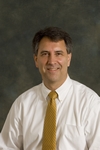 Stephen Manzella, Ph.D., obtained an undergraduate degree in Biology in 1988 and a Ph.D. in Pharmacology in 1993 from the University of Alabama at Birmingham. He continued both research and clinical post-doctoral training at Washington University School of Medicine in St. Louis in the Department of Laboratory Medicine and Molecular Diagnostics. There he was Chief fellow of the Clinical Chemistry fellowship program in 1999.
After postdoctoral training, Dr. Manzella was a Staff Scientist at Dade Behring, Inc. in the Division of Clinical and Scientific Affairs and he was responsible for design and evaluation of new clinical immunoassays, instrumentation, and software. In 2001, he joined York Laboratory Associates and currently serves as the Clinical Director of Core Laboratory, Point-of-Care testing and Support Services at York Hospital.